In this article I would like to show you how you can use the AWQL generator we developed in our company.
First, you will need to get an AWQL report. You can use our generator, which you can find here or, if you prefer, you can copy our template below which already has the AWQL report combined with the script and some additional functions: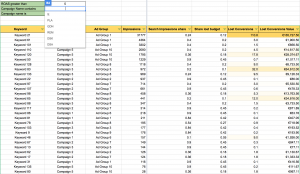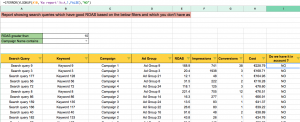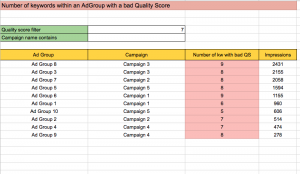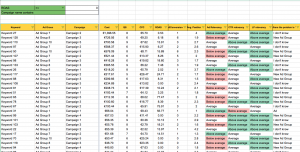 Duplicate our template and insert the URL of your new spreadsheet on line 2 of the script below.
Then insert the script into your account.
Launch the script.
Look at the sheets for insight into your accounts.
1

2

3

4

5

6

7

8

9

10

11

12

13

14

15

16

17

18

19

20

21

22

23

24

25

26

27

28

29

30

31

32

33

34

35

36

37

38

39

40

41

42

43

44

45

46

47

48

49

50

51

52

53

54

55

56

57

58

59

60

61

62

63

64

65

66

67

68

69

70

71

72

73

74

75

76

77

78

79

80

81

82

83

84

85

86

87

88

89

90

91

92

93

94

95

96

97

98

99

//SETTINGS - Spreadsheet URL//

var

spreadsheet

=

SpreadsheetApp

.

openByUrl

(

''

)

;

spreadsheet

.

setSpreadsheetLocale

(

'en'

)

;

var

sheetSettings

=

createOrGetSheet

(

spreadsheet

,

'Settings'

,

0

)

;

var

settingRange

=

sheetSettings

.

getRange

(

1

,

1

,

1

,

2

)

;

if

(

sheetSettings

.

getRange

(

1

,

2

)

.

isBlank

(

)

)

{

settingRange

.

setValues

(

[

[

'How many days back for the report'

,

90

]

]

)

;

var

daysBack

=

sheetSettings

.

getRange

(

1

,

2

)

.

getValue

(

)

;

var

sheet

=

createOrGetSheet

(

spreadsheet

,

'KW report'

,

1

)

;

var

sheet2

=

createOrGetSheet

(

spreadsheet

,

'Terms report'

,

2

)

;

var

to

=

lynt_get_date

(

1

)

;

var

from

=

lynt_get_date

(

daysBack

)

;

var

dateRange

=

from

+

','

+

to

;

var

report

=

AdWordsApp

.

report

(

" SELECT Criteria, CampaignName, AdGroupName,Impressions,Clicks,AverageCpc,Ctr,Cost,AllConversions,CostPerAllConversion,AllConversionValue,QualityScore,CpcBid,FirstPageCpc,TopOfPageCpc,AveragePosition,CreativeQualityScore,SearchPredictedCtr, PostClickQualityScore,EstimatedAddCostAtFirstPositionCpc,EstimatedAddClicksAtFirstPositionCpc,FirstPositionCpc,KeywordMatchType, SearchImpressionShare, SearchRankLostImpressionShare "

+

" FROM KEYWORDS_PERFORMANCE_REPORT"

+

" WHERE Impressions > 10"

+

" AND AdGroupStatus = ENABLED"

+

" AND CampaignStatus = ENABLED"

+

" AND Status = ENABLED"

+

var

report2

=

AdWordsApp

.

report

(

" SELECT Query,KeywordTextMatchingQuery,CampaignName,AdGroupName,Impressions,Clicks,AverageCpc,Ctr,Cost,AllConversions,CostPerAllConversion,AllConversionValue "

+

" FROM SEARCH_QUERY_PERFORMANCE_REPORT"

+

" WHERE Impressions > 0"

+

" AND AdGroupStatus = ENABLED"

+

" AND CampaignStatus = ENABLED"

+

" AND Impressions > 20"

+

report

.

exportToSheet

(

sheet

)

;

report2

.

exportToSheet

(

sheet2

)

;

function

lynt_DST

(

datum

,

offset

)

{

var

yr

=

datum

.

getFullYear

(

)

;

var

dst_start

=

new

Date

(

"March 14, "

+

yr

+

" 02:00:00"

)

;

var

dst_end

=

new

Date

(

"November 07, "

+

yr

+

" 02:00:00"

)

;

var

day

=

dst_start

.

getDay

(

)

;

dst_start

.

setDate

(

14

-

day

)

;

if

(

datum

>=

dst_start

&&

datum

<

dst_end

)

{

//Creating or returning selected sheet

function

createOrGetSheet

(

reportSpreadsheet

,

name

,

position

)

{

var

sheet

=

reportSpreadsheet

.

getSheetByName

(

name

)

;

return

reportSpreadsheet

.

insertSheet

(

name

,

position

)

;

//Getting data for x days back in right format for AWQL query

function

lynt_get_date

(

pocet_dni

)

{

//kdyz je letni cas, tak o hodinu dele (GMT+1)

var

offset

=

lynt_DST

(

minule

,

1

)

;

minule

.

setTime

(

minule

.

getTime

(

)

-

(

1000

*

60

*

60

*

(

24

)

*

pocet_dni

)

+

offset

)

;

return

lynt_format_awql_date

(

minule

)

;

//Getting always last sunday with right formats for AWQL

function

lynt_get_sunday

(

)

{

//kdyz je letni cas, tak o hodinu dele (GMT+1)

var

offset

=

lynt_DST

(

minule

,

1

)

;

minule

.

setTime

(

minule

.

getTime

(

)

-

(

1000

*

60

*

60

*

(

24

)

*

(

minule

.

getDay

(

)

)

)

+

offset

)

;

return

lynt_format_awql_date

(

minule

)

;

//Getting x days from last sunday right formated for AWQL

function

lynt_get_xdays_back_from_sunday

(

pocet_dni

)

{

//kdyz je letni cas, tak o hodinu dele (GMT+1)

var

offset

=

lynt_DST

(

minule

,

1

)

;

minule

.

setTime

(

minule

.

getTime

(

)

-

(

1000

*

60

*

60

*

(

24

)

*

pocet_dni

)

-

(

1000

*

60

*

60

*

24

*

(

minule

.

getDay

(

)

)

)

+

offset

)

;

return

lynt_format_awql_date

(

minule

)

;

function

lynt_format_awql_date

(

datum

)

{

return

datum

.

getUTCFullYear

(

)

+

(

"0"

+

(

datum

.

getUTCMonth

(

)

+

1

)

)

.

slice

(

-

2

)

+

(

"0"

+

datum

.

getUTCDate

(

)

)

.

slice

(

-

2

)

;