What the script does:
Downloads the complete performance history of all products for a given period of time (you can set the number of days back on line 4, i.e. typing "30" will download history for the last 30 days).
Generates a CSV file that contains all the data.
You'll find the CSV file in your Google Drive or script protocol.
You can then manipulate the data according to your needs in order to analyze it, regardless of the historic PLA campaign structure.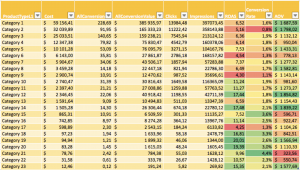 How to insert the script:
Copy script.
Insert into account.
Indicate the number of days back (from today) you want to download the historical data on line 4. Beware, 360 days or more can result in several million records.
Import the CSV file using Excel> Data> From Text.
Create a pivot table according to your needs.
1

2

3

4

5

6

7

8

9

10

11

12

13

14

15

16

17

18

19

20

21

22

23

24

25

26

27

28

29

30

31

32

33

34

35

36

37

38

39

40

41

42

43

44

45

46

47

48

49

50

51

52

53

54

55

56

57

58

59

60

61

62

63

64

65

66

67

68

69

70

71

72

73

74

75

76

77

78

79

80

81

82

83

84

85

86

87

88

89

90

91

92

93

94

95

96

97

98

99

var

NAME_YOUR_FILE

=

'YOUR NAME'

;

var

to

=

lynt_get_date

(

1

,

1

)

;

var

from

=

lynt_get_date

(

DAYS_BACK

,

1

)

;

var

reportArray

=

[

"OfferId; CampaignName; AdGroupName; Cost; AllConversions; AllConversionValue; ProductTypeL1; ProductTypeL2; ProductTypeL3; CategoryL1; CategoryL2; CategoryL3; CategoryL4; Impressions; Brand; CustomAttribute0; CustomAttribute1; CustomAttribute2; CustomAttribute3; Clicks"

]

;

var

report

=

AdWordsApp

.

report

(

"SELECT OfferId, Clicks, CampaignName, AdGroupName, Cost, AllConversions, AllConversionValue, ProductTypeL1, ProductTypeL2, ProductTypeL3, CategoryL1, CategoryL2, CategoryL3, CategoryL4, Impressions, Brand, CustomAttribute0, CustomAttribute1, CustomAttribute2, CustomAttribute3 FROM SHOPPING_PERFORMANCE_REPORT DURING "

+

from

+

","

+

to

+

""

)

;

var

iterator

=

report

.

rows

(

)

;

while

(

iterator

.

hasNext

(

)

)

{

var

oneRow

=

iterator

.

next

(

)

;

var

oneRowString

=

lynt_json_to_array

(

oneRow

)

;

reportArray

.

push

(

oneRowString

)

;

doCSV

(

reportArray

,

NAME_YOUR_FILE

)

;

function

doCSV

(

input

,

name

)

{

var

data

=

input

.

join

(

"\n"

)

;

var

file

=

DriveApp

.

createFile

(

name

,

data

)

;

Logger

.

log

(

file

.

getUrl

(

)

)

;

function

lynt_json_to_array

(

json

)

{

var

OfferId

=

json

.

OfferId

;

var

Clicks

=

json

.

Clicks

.

replace

(

","

,

" "

)

.

replace

(

"."

,

","

)

;

var

CampaignName

=

json

.

CampaignName

;

var

AdGroupName

=

json

.

AdGroupName

;

var

Cost

=

json

.

Cost

.

replace

(

","

,

" "

)

.

replace

(

"."

,

","

)

;

var

AllConversions

=

json

.

AllConversions

.

replace

(

","

,

" "

)

.

replace

(

"."

,

","

)

;

var

AllConversionValue

=

json

.

AllConversionValue

.

replace

(

","

,

" "

)

.

replace

(

"."

,

","

)

;

var

ProductTypeL1

=

json

.

ProductTypeL1

;

var

ProductTypeL2

=

json

.

ProductTypeL2

;

var

ProductTypeL3

=

json

.

ProductTypeL3

;

var

CategoryL1

=

json

.

CategoryL1

;

var

CategoryL2

=

json

.

CategoryL2

;

var

CategoryL3

=

json

.

CategoryL3

;

var

CategoryL4

=

json

.

CategoryL4

;

var

Impressions

=

json

.

Impressions

.

replace

(

","

,

" "

)

.

replace

(

"."

,

","

)

;

var

CustomAttribute0

=

json

.

CustomAttribute0

;

var

CustomAttribute1

=

json

.

CustomAttribute1

;

var

CustomAttribute2

=

json

.

CustomAttribute2

;

var

CustomAttribute3

=

json

.

CustomAttribute3

;

AllConversionValue

+

";"

+

function

lynt_format_awql_date

(

datum

)

{

return

datum

.

getUTCFullYear

(

)

+

(

"0"

+

(

datum

.

getUTCMonth

(

)

+

1

)

)

.

slice

(

-

2

)

+

(

"0"

+

datum

.

getUTCDate

(

)

)

.

slice

(

-

2

)

;

//Daylight saving time correction

function

lynt_DST

(

datum

,

offset

)

{

var

yr

=

datum

.

getFullYear

(

)

;

var

dst_start

=

new

Date

(

"March 14, "

+

yr

+

" 02:00:00"

)

;

var

dst_end

=

new

Date

(

"November 07, "

+

yr

+

" 02:00:00"

)

;

var

day

=

dst_start

.

getDay

(

)

;

dst_start

.

setDate

(

14

-

day

)

;

if

(

datum

>=

dst_start

&&

datum

<

dst_end

)

{

//Getting data for x days back in right format for AWQL query

function

lynt_get_date

(

pocet_dni

,

zona

)

{

//kdyz je letni cas, tak o hodinu dele (GMT+1)

var

offset

=

lynt_DST

(

minule

,

zona

)

;

minule

.

setTime

(

minule

.

getTime

(

)

-

(

1000

*

60

*

60

*

(

24

)

*

pocet_dni

)

+

offset

)

;

return

lynt_format_awql_date

(

minule

)

;