Při optimalizaci Adwords účtu je velmi důležité dlouhodobě sledovat trend vývoje PNO a vůbec ziskovosti celého účtu na různých úrovních.
PNO metrika reprezentuje procentuální náklady na obrat eshopu. Pokud máte správně fungující měřící kód pro měření hodnoty objednávky, dá se metrika PNO přímo porovnat s průměrnou marží Vašeho obchodu. Pokud tedy máte průměrnou marži 20 % a PNO 10 %, v podstatě z každé objednávky vyděláte 10 %. Skript Vám tedy dosadí sloupec s PNO a ziskem/ ztrátou účtu.
Jak skript funguje
Jakmile skript nasadíte do svého Adwords účtu (nejedná se záměrně o MCC skript, protože každý účet má individuální nastavení cílové PNO a marže internetového obchodu), po spuštění vytvoří několik listů, z nichž první se jmenuje "Nastavení".
Co zde můžete nastavit:
Jakou marži má Adwords skript brát v úvahu při výpočtů ziskovosti účtu.
Při jaké denní ztrátě účtu chcete dostat upozornění na email.
Na jaký email budou daná upozornění chodit.
Jaký bude předmět emailu, což slouží pro rozpoznání účtu. Adwords neumožňuje zjistit název účtu pro lepší identifikaci a číslo Adwords účtu se nezdá jako příliš uživatelsky přívětivé.
Poslední možností je, kolik dní zpátky chcete stahovat historické statistiky pro přehled návratnosti kampaní a reklamních sestav.
Jistě se ptáte, proč je nastavení uděláno v prostředí Google sheetu a ne přímo ve skriptu. Ze zkušenosti vím, že PPCčkaři nejsou ve většině případů programátoři a je pro ně daleko snažší změnit něco v předem dané buňce, než hledat ve skriptu tu část, která o výpočtu rozhoduje. Takto si každý může upravit zásadní prvky skriptu sám bez znalosti Javascriptu. Jakmile volbu změníte tak při dalším běhu skriptu již bude počítat s novými údaji.
Představení listů a jednotlivých reportů ve skriptu
Skript samozřejmě kromě nastavení obsahuje další listy, které už Vám opravdu pomohou při optimalizaci Vaší kampaně.
List "Denní výkon účtu"
Na listu "Denní výkon účtu" vidíte svůj účet a všechny zásadní statistiky za posledních 60 dnů. Kromě standardních statistik, které naleznete v Adwords ve skriptu, se dopočítává každý den pomocí vzorečku zisk/ztráta celého účtu a PNO celého účtu.
Navíc v případě PNO, které je vyšší než Vaše marže, skript automaticky daný den označí červeně a v případě kladného dne buňka zezelená.
Kromě klasického přehledu obsahuje denní report 2 věci, které se opravdu hodí:
V případě, že účet zaznamená za předešlý den ztrátu, kterou máte nastavenou na listu "Nastavení", pošle skript na zvolený email zprávu o ztrátě účtu.
V případě, že denní náklady účtu jsou 0, což se většinou stává, když na účtu dojdou peníze, pošle Vám skript email také s upozorněním na vyčerpané peníze na účtu. (Pokud jste z nějakého důvodu kampaně na měsíc pozastavili a nechcete dostávat notifikace každý den, stačí pozastavit automatické spouštění skriptu, případně z nastavení smazat email. Skript v tomto případě sice bude psát chybu, ale nebudou Vám chodit informativní emaily).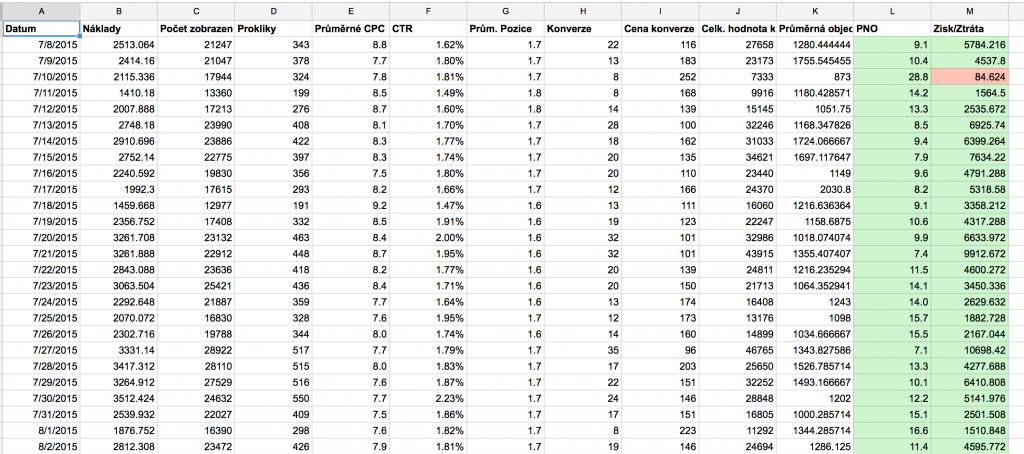 List "Týdenní výkon účtu"
Protože denní přehled pro různé trendy není pokaždé úplně dobrý, např. víkendy jsou horší, pondělí zase lepší, kdo má vědět, zda se celkově účet zlepšuje? V takovém případě je tedy dobré trendy sledovat v týdenním přehledu, který zobrazuje statistiky celého účtu za posledních 20 týdnů. Budete tak mít přehled o zisku účtu, o vývoji ceny za proklik, CTR a o vývoji PNO s daleko lepší přesností.
Pro lepší vizualizaci je možné si do účtu vložit grafy a sledovat statistiky přímo v nich.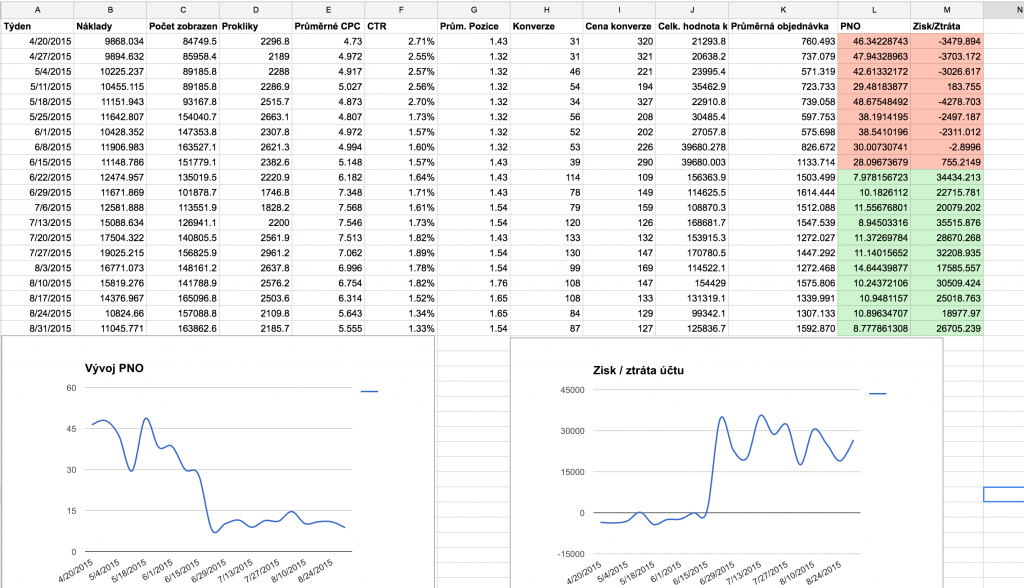 List "Měsíční výkon účtu"
Protože ve spolupráci mezi klientem a agenturou se hlavní reporty dělají měsíčně, je samozřejmě dostupný i list s měsíčním vývojem účtu. V tomto reportu je pěkný přehled o zisku účtu. Pokud svoji práci děláte správně, je právě tento sloupec dostatečným argumentem pro fakturu za odvedenou práci.
List – výkon kampaní
Samozřejmou součástí optimalizace návratnosti Adwords účtu je hledání, které z kampaní spíše prodělávají a se kterými je nutné něco dělat. A právě k tomu slouží report výkonu kampaní, kde jsou všechny metriky jako PNO, zisk/ztráta účtu, průměrná hodnota objednávky rozdělené dle kampaní.
Skript po vložení dat do listu automaticky seřadí kampaně v závislosti na jejich útratě. V tomto případě se dle mého názoru jedná o nejlepší řazení, protože nahoře se vyskytují kampaně, které Vás stojí nejvíce peněz. V případě, že jsou buňky červené (díky ztrátě kampaně, či špatnému PNO) je nutné jednat dříve u kampaní, které jsou v tabulce na vyšší pozici.
Určitě bych se v tomto reportu zastavil u automaticky dopočítávaného sloupce "průměrná hodnota objednávky", který dle mého názoru chybí v prostředí Adwords. Pro mě se u PNO optimalizace kampaní jedná o jednu ze zásadních metrik, která mi pomáhají odhadnout nabídku na proklik pro danou kampaň / sestavu / klíčové slovo. Můžete mít v některých sestavách skvělou cenu konverze, ale velmi bídnou průměrnou cenu objednávky a díky tomu špatné PNO a především ztrátu dané kampaně.
Co bych určitě rád dodělal do skriptu, je možnost nastavit pro jednotlivé kampaně / sestavy vlastní marži. Týká se to hlavně klientů, kteří mají opravdu rozdílné marže napříč produkty. V takovém případě by bylo možné ručně nastavit pro dané sestavy marži a následně by skript počítal v přehledu PNO kampaní a reklamních sestav právě s danou marží. Otázkou je zda-li by stačilo nastavovat marže na úrovni kampaní nebo by bylo nutné nastavovat na úrovni reklamních sestav. Každý přeci jen používá trošku jinou strukturu účtu.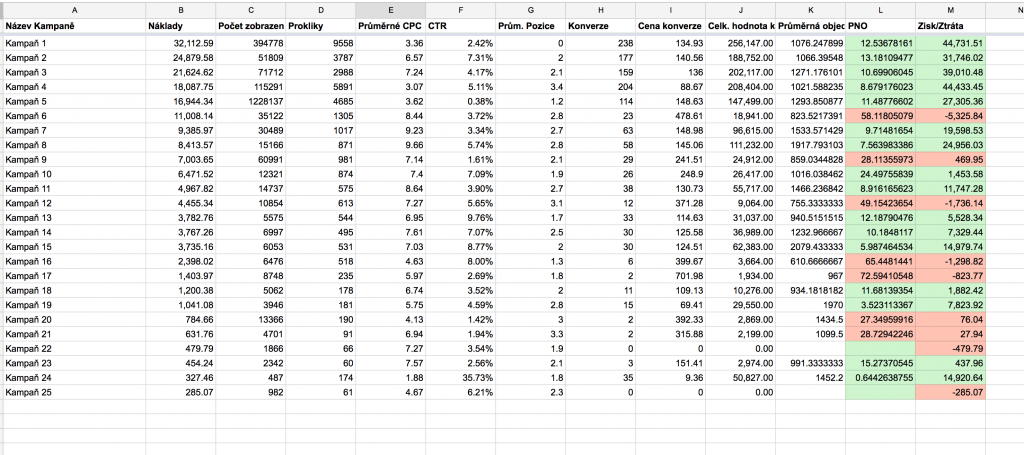 List "Historický výkon sestav"
Na listu historický výkon sestav naleznete stejné statistiky a metriky stahované za stejné období, jako na listu výkon kampaní. Vše je ovšem rozdělené po reklamních sestavách.
Jak skript nainstalovat do Vašeho účtu
1. Odeslání formuláře s URL adresou sešitu
Vzhledem k tomu, že skript je zpracován tak, aby dokázal vytvořit jednotlivé listy s přehledy i s nastavením, není nutné kopírovat nějakou šablonu skriptu apod. Stačí si pouze vytvořit novou tabulku a vložit její URL do formuláře níže spolu s emailem. Následně Vám náš systém vygeneruje skript, který bude data posílat přímo do Vaší tabulky. (My samozřejmě k tabulce přístup mít nebudeme a ani to není možné. Tento systém instalace slouží pro co nejsnažší nastavení.)
2. Vložím obsah textového souboru jako nový skript
Jakmile budete mít skript, který Vám vygenerujeme, stačí jít do sekce "Hromadná knihovna" > "Skripty", kde zvolíme vložit nový skript a celý obsah zkopírujeme. Bude nutné povolit odesílání emailů skriptem a možnost práce s Vaším Google diskem. Poté jen nastavte automatické spouštění skriptu denně.

Co bych rád ve skriptu vylepšil
Pro některé účely používám průměrné skóre kvality dané kampaně / reklamní sestavy. Určitě by nebylo špatné i tuto hodnotu mít ve sloupečku.
Když díky nastavení skriptu víme, jakou máme marži, bylo by možné na základě dopočítané průměrné objednávky a konverzního poměru spočítat maximální cenu za proklik pro návratnost kampaně. To by mohlo pomoci při rozhodování, co s nerentabilní kampaní dělat. Když uvidíme, že mám průměrnou pozici 2 a potřebuji platit o 2 Kč za proklik méně, tak mám dvě možnosti, zlepšit skóre kvality a tím ušetřit a nebo snížit nabídky a snažit se skóre kvality nezhoršit.
Možnost nastavení automatické úpravy nabídek právě na základě zisku, ztráty na úrovni jednotlivých klíčových slov. Z tohoto mám trošku strach. Programátorsky to není problém, ale bojím se určitých situací, které budou vést k příliš vysoké nabídce nebo které budou naopak zbytečně kampaně tlumit. Se skriptem pro optimalizaci nabídek si již nějaký čas hraji a testuji, jak jej ideálně nastavit.
Zdrojový kód skriptu
Skript vyžaduje naši základní sadu funkcí ve verzi minimálně 1.1 – přidejte ji před samotný skript. Při použití formuláře pro generování skriptu získáte vše nastavené a propojené, tento krok tak nebude třeba.
1

2

3

4

5

6

7

8

9

10

11

12

13

14

15

16

17

18

19

20

21

22

23

24

25

26

27

28

29

30

31

32

33

34

35

36

37

38

39

40

41

42

43

44

45

46

47

48

49

50

51

52

53

54

55

56

57

58

59

60

61

62

63

64

65

66

67

68

69

70

71

72

73

74

75

76

77

78

79

80

81

82

83

84

85

86

87

88

89

90

91

92

93

94

95

96

97

98

99

100

101

102

103

104

105

106

107

108

109

110

111

112

113

114

115

116

117

118

119

120

121

122

123

124

125

126

127

128

129

130

131

132

133

134

135

136

137

138

139

140

141

142

143

144

145

146

147

148

149

150

151

152

153

154

155

156

157

158

159

160

161

162

163

164

165

166

167

168

169

170

171

172

173

174

175

176

177

178

179

180

181

182

183

184

185

186

187

188

189

190

191

192

193

194

195

196

197

198

199

200

201

202

203

204

205

206

207

208

209

210

211

212

213

214

215

216

217

218

219

220

221

222

223

224

225

226

227

228

229

230

231

232

233

234

235

236

237

238

239

240

241

242

243

244

245

246

247

248

249

250

251

252

253

254

255

256

257

258

259

260

261

262

263

264

265

266

267

268

269

270

271

272

273

274

275

276

277

278

279

280

281

282

283

284

285

286

287

288

289

290

291

292

293

294

295

296

297

298

299

300

301

302

303

304

305

306

307

308

309

310

311

312

313

314

315

316

317

318

319

320

321

322

323

324

325

326

327

328

329

330

331

332

333

334

335

336

337

338

339

340

341

342

343

344

345

346

347

348

349

350

351

352

353

354

355

356

357

358

359

360

361

362

363

364

365

366

367

368

369

370

371

372

373

374

375

376

377

378

379

380

381

382

383

384

385

386

387

388

389

390

391

392

393

394

395

396

397

398

399

400

401

402

403

404

405

/* Lynt basic functions */

//Correct timezone offet if inserted date is in daylight saving time

function

lynt_DST

(

datum

,

offset

)

{

var

yr

=

datum

.

getFullYear

(

)

;

var

dst_start

=

new

Date

(

"March 14, "

+

yr

+

" 02:00:00"

)

;

var

dst_end

=

new

Date

(

"November 07, "

+

yr

+

" 02:00:00"

)

;

var

day

=

dst_start

.

getDay

(

)

;

dst_start

.

setDate

(

14

-

day

)

;

if

(

datum

>=

dst_start

&&

datum

<

dst_end

)

{

//Creating or returning selected sheet

function

createOrGetSheet

(

reportSpreadsheet

,

name

,

position

)

{

var

sheet

=

reportSpreadsheet

.

getSheetByName

(

name

)

;

return

reportSpreadsheet

.

insertSheet

(

name

,

position

)

;

//Getting data for x days back in right format for AWQL query

function

lynt_get_date

(

pocet_dni

)

{

//kdyz je letni cas, tak o hodinu dele (GMT+1)

var

offset

=

lynt_DST

(

minule

,

1

)

;

minule

.

setTime

(

minule

.

getTime

(

)

-

(

1000

*

60

*

60

*

(

24

)

*

pocet_dni

)

+

offset

)

;

return

lynt_format_awql_date

(

minule

)

;

//Getting always last sunday with right formats for AWQL

function

lynt_get_sunday

(

)

{

//kdyz je letni cas, tak o hodinu dele (GMT+1)

var

offset

=

lynt_DST

(

minule

,

1

)

;

minule

.

setTime

(

minule

.

getTime

(

)

-

(

1000

*

60

*

60

*

(

24

)

*

(

minule

.

getDay

(

)

)

)

+

offset

)

;

return

lynt_format_awql_date

(

minule

)

;

//Getting x days from last sunday right formated for AWQL

function

lynt_get_xdays_back_from_sunday

(

pocet_dni

)

{

//kdyz je letni cas, tak o hodinu dele (GMT+1)

var

offset

=

lynt_DST

(

minule

,

1

)

;

minule

.

setTime

(

minule

.

getTime

(

)

-

(

1000

*

60

*

60

*

(

24

)

*

pocet_dni

)

-

(

1000

*

60

*

60

*

24

*

(

minule

.

getDay

(

)

)

)

+

offset

)

;

return

lynt_format_awql_date

(

minule

)

;

function

lynt_format_awql_date

(

datum

)

{

return

datum

.

getUTCFullYear

(

)

+

(

"0"

+

(

datum

.

getUTCMonth

(

)

+

1

)

)

.

slice

(

-

2

)

+

(

"0"

+

datum

.

getUTCDate

(

)

)

.

slice

(

-

2

)

;

/* End of Lynt basic functions */

//Openning spreadsheet and setting up spreadsheet location for english because of numbers format

var

reportSpreadsheet

=

SpreadsheetApp

.

openByUrl

(

""

)

;

// Vložte URL Vašeho sešitu

reportSpreadsheet

.

setSpreadsheetLocale

(

'en'

)

;

reportSpreadsheet

.

setSpreadsheetTimeZone

(

"Europe/Prague"

)

;

//Creating new list with settings, changing columns width and borders for settings area

var

sheetSettings

=

reportSpreadsheet

.

getSheetByName

(

"Nastavení"

)

;

if

(

sheetSettings

==

null

)

{

reportSpreadsheet

.

insertSheet

(

"Nastavení"

,

0

)

;

var

sheetSettings

=

reportSpreadsheet

.

getSheetByName

(

"Nastavení"

)

;

var

settingsInput

=

sheetSettings

.

getRange

(

1

,

1

,

6

,

3

)

.

setValues

(

[

[

"Nastavení skriptu, vložte do buňky vedle daná data"

,

"Vaše nastavení"

,

"Příklad"

]

,

[

"Vaše marže v %"

,

30

,

30

]

,

[

"Při jakém denní ztrátě chcete být upozornění"

,

0

,

500

]

,

[

"Váš email pro upozornění"

,

""

,

"jakub.kasparu@lynt.cz"

]

,

[

"Předmět emailu"

,

"Ztráta"

,

"Název účtu - včera vznikla ztráta"

]

,

[

"Kolik dní zpátky koukat na kampaně a sestavy"

,

150

,

150

]

]

)

;

sheetSettings

.

setColumnWidth

(

1

,

330

)

;

sheetSettings

.

setColumnWidth

(

2

,

200

)

;

sheetSettings

.

setColumnWidth

(

3

,

200

)

;

sheetSettings

.

getRange

(

1

,

1

,

6

,

3

)

.

setBorder

(

true

,

true

,

true

,

true

,

true

,

true

)

;

//Deleting 'list 1' sheet

var

sheetList1

=

reportSpreadsheet

.

getSheetByName

(

"List 1"

)

;

if

(

sheetList1

!=

null

)

{

reportSpreadsheet

.

deleteSheet

(

sheetList1

)

;

//Deleting "Sheet 1" sheet

var

sheetSheet1

=

reportSpreadsheet

.

getSheetByName

(

"Sheet1"

)

;

if

(

reportSpreadsheet

.

getSheetByName

(

"Sheet1"

)

!=

null

)

{

reportSpreadsheet

.

deleteSheet

(

sheetSheet1

)

;

// Testing if there is sheet with data created.

var

sheetDailyAccountOverview

=

createOrGetSheet

(

reportSpreadsheet

,

"Denní výkon účtu"

,

1

)

;

// Testing if there is sheet with data created.

var

sheetWeeklyAccountOverview

=

createOrGetSheet

(

reportSpreadsheet

,

"Týdenní výkon účtu"

,

2

)

;

// Testing if there is sheet with data created.

var

sheetMonthlyOverview

=

createOrGetSheet

(

reportSpreadsheet

,

"Měsíční výkon účtu"

,

3

)

;

// Testing if there is sheet with data created.

var

campaingsPerformance

=

createOrGetSheet

(

reportSpreadsheet

,

"Výkon kampaní"

,

4

)

;

// Testing if there is sheet with data created.

var

adGroupPerformance

=

createOrGetSheet

(

reportSpreadsheet

,

"Historický výkon sestav"

,

5

)

;

// Preparing right data format for AWQL query

var

reportDateRange

=

lynt_get_date

(

60

)

+

","

+

lynt_get_date

(

1

)

;

//Combine var in right format for select

//Getting daily account overview report

var

report

=

AdWordsApp

.

report

(

" SELECT Date, Cost, Impressions, Clicks, AverageCpc, Ctr, AveragePosition, Conversions, CostPerAllConversion, ConversionValue "

+

" FROM ACCOUNT_PERFORMANCE_REPORT "

+

" DURING "

+

reportDateRange

)

;

//Exporting data to sheet

sheetDailyAccountOverview

.

clearContents

(

)

;

report

.

exportToSheet

(

sheetDailyAccountOverview

)

;

sheetDailyAccountOverview

.

sort

(

1

,

true

)

;

var

headerColumns

=

sheetDailyAccountOverview

.

getRange

(

1

,

1

,

1

,

13

)

;

headerColumns

.

setValues

(

[

[

"Datum"

,

"Náklady"

,

"Počet zobrazení"

,

"Prokliky"

,

"Průměrné CPC"

,

"CTR"

,

"Prům. Pozice"

,

"Konverze"

,

"Cena konverze"

,

"Celk. hodnota konverzí"

,

"Průměrná objednávka"

,

"PNO"

,

"Zisk/Ztráta"

]

]

)

;

headerColumns

.

setFontWeight

(

"bold"

)

;

//Creating new column with avg order value

var

lastRow

=

sheetDailyAccountOverview

.

getLastRow

(

)

;

//Count last row in data

var

avgOrder

=

sheetDailyAccountOverview

.

getRange

(

"K2:K"

+

lastRow

)

;

avgOrder

.

setFormula

(

"=J2/H2"

)

;

//Creating new column with PNO with Google sheet script

var

lastRow

=

sheetDailyAccountOverview

.

getLastRow

(

)

;

//Count last row in data

var

pnoRange

=

sheetDailyAccountOverview

.

getRange

(

"L2:L"

+

lastRow

)

;

pnoRange

.

setFormula

(

"=IF(J2=0,,B2/(J2/100))"

)

;

//Creating new column with profit values based on spreadsheet formula

var

profitRange

=

sheetDailyAccountOverview

.

getRange

(

"M2:M"

+

lastRow

)

;

var

profit

=

sheetSettings

.

getRange

(

"B2"

)

.

getValue

(

)

/

100

;

profitRange

.

setFormula

(

"=J2*'Nastavení'!$B$2/100-B2"

)

;

//Part below creates conditional formats for profit column

for

(

i

=

2

;

i

<=

lastRow

;

i

++

)

{

var

profitLoss

=

sheetDailyAccountOverview

.

getRange

(

i

,

13

)

.

getValue

(

)

;

sheetDailyAccountOverview

.

getRange

(

i

,

13

)

.

setBackground

(

"#FFC2B2"

)

;

sheetDailyAccountOverview

.

getRange

(

i

,

13

)

.

setBackground

(

"#CCF5CC"

)

;

//Part below creates conditional formats for PNO column

for

(

i

=

2

;

i

<=

lastRow

;

i

++

)

{

var

pnoForConditional

=

sheetDailyAccountOverview

.

getRange

(

i

,

12

)

.

getValue

(

)

;

if

(

pnoForConditional

>=

profit

*

100

)

 

{

sheetDailyAccountOverview

.

getRange

(

i

,

12

)

.

setBackground

(

"#FFC2B2"

)

;

sheetDailyAccountOverview

.

getRange

(

i

,

12

)

.

setBackground

(

"#CCF5CC"

)

;

//Creating Weekly performance report

var

reportDateRange

=

lynt_get_xdays_back_from_sunday

(

139

)

+

","

+

lynt_get_sunday

(

)

;

sheetWeeklyAccountOverview

.

clearContents

(

)

;

var

report

=

AdWordsApp

.

report

(

" SELECT Week, Cost, Impressions, Clicks, AverageCpc, Ctr, AveragePosition, Conversions, CostPerAllConversion, ConversionValue "

+

" FROM ACCOUNT_PERFORMANCE_REPORT "

+

" DURING "

+

reportDateRange

)

;

//Exporting data to sheet

sheetWeeklyAccountOverview

.

clearContents

(

)

;

report

.

exportToSheet

(

sheetWeeklyAccountOverview

)

;

sheetWeeklyAccountOverview

.

sort

(

1

,

true

)

;

var

headerColumns

=

sheetWeeklyAccountOverview

.

getRange

(

1

,

1

,

1

,

13

)

;

headerColumns

.

setValues

(

[

[

"Týden"

,

"Náklady"

,

"Počet zobrazení"

,

"Prokliky"

,

"Průměrné CPC"

,

"CTR"

,

"Prům. Pozice"

,

"Konverze"

,

"Cena konverze"

,

"Celk. hodnota konverzí"

,

"Průměrná objednávka"

,

"PNO"

,

"Zisk/Ztráta"

]

]

)

;

headerColumns

.

setFontWeight

(

"bold"

)

;

//Creating new column with avg order value

var

lastRow

=

sheetWeeklyAccountOverview

.

getLastRow

(

)

;

//Count last row in data

var

avgOrder

=

sheetWeeklyAccountOverview

.

getRange

(

"K2:K"

+

lastRow

)

;

avgOrder

.

setFormula

(

"=J2/H2"

)

;

//Creating new column with PNO with Google sheet script

var

lastRow

=

sheetWeeklyAccountOverview

.

getLastRow

(

)

;

//Count last row in data

var

pnoRange

=

sheetWeeklyAccountOverview

.

getRange

(

"L2:L"

+

lastRow

)

;

pnoRange

.

setFormula

(

"=IF(J2=0,,B2/(J2/100))"

)

;

//Creating new column with profit values based on spreadsheet formula

var

profitRange

=

sheetWeeklyAccountOverview

.

getRange

(

"M2:M"

+

lastRow

)

;

var

profit

=

sheetSettings

.

getRange

(

"B2"

)

.

getValue

(

)

/

100

;

profitRange

.

setFormula

(

"=J2*'Nastavení'!$B$2/100-B2"

)

;

//Part below creates conditional formats for profit column

for

(

i

=

2

;

i

<=

lastRow

;

i

++

)

{

var

profitLoss

=

sheetWeeklyAccountOverview

.

getRange

(

i

,

13

)

.

getValue

(

)

;

sheetWeeklyAccountOverview

.

getRange

(

i

,

13

)

.

setBackground

(

"#FFC2B2"

)

;

sheetWeeklyAccountOverview

.

getRange

(

i

,

13

)

.

setBackground

(

"#CCF5CC"

)

;

//Part below creates conditional formats for PNO column

for

(

i

=

2

;

i

<=

lastRow

;

i

++

)

{

var

pnoForConditional

=

sheetWeeklyAccountOverview

.

getRange

(

i

,

12

)

.

getValue

(

)

;

if

(

pnoForConditional

>=

profit

*

100

)

 

{

sheetWeeklyAccountOverview

.

getRange

(

i

,

12

)

.

setBackground

(

"#FFC2B2"

)

;

sheetWeeklyAccountOverview

.

getRange

(

i

,

12

)

.

setBackground

(

"#CCF5CC"

)

;

//Creating Monthly performance report

var

reportDateRange

=

lynt_get_xdays_back_from_sunday

(

365

)

+

","

+

lynt_get_date

(

1

)

sheetMonthlyOverview

.

clearContents

(

)

;

var

report

=

AdWordsApp

.

report

(

" SELECT Month, Cost, Impressions, Clicks, AverageCpc, Ctr, AveragePosition, Conversions, CostPerAllConversion, ConversionValue "

+

" FROM ACCOUNT_PERFORMANCE_REPORT "

+

" DURING "

+

reportDateRange

)

;

//Exporting data to sheet

sheetMonthlyOverview

.

clearContents

(

)

;

report

.

exportToSheet

(

sheetMonthlyOverview

)

;

sheetMonthlyOverview

.

sort

(

1

,

true

)

;

var

headerColumns

=

sheetMonthlyOverview

.

getRange

(

1

,

1

,

1

,

13

)

;

headerColumns

.

setValues

(

[

[

"Měsíc"

,

"Náklady"

,

"Počet zobrazení"

,

"Prokliky"

,

"Průměrné CPC"

,

"CTR"

,

"Prům. Pozice"

,

"Konverze"

,

"Cena konverze"

,

"Celk. hodnota konverzí"

,

"Průměrná objednávka"

,

"PNO"

,

"Zisk/Ztráta"

]

]

)

;

headerColumns

.

setFontWeight

(

"bold"

)

;

//Creating new column with avg order value

var

lastRow

=

sheetMonthlyOverview

.

getLastRow

(

)

;

//Count last row in data

var

avgOrder

=

sheetMonthlyOverview

.

getRange

(

"K2:K"

+

lastRow

)

;

avgOrder

.

setFormula

(

"=J2/H2"

)

;

//Creating new column with PNO with Google sheet script

var

lastRow

=

sheetMonthlyOverview

.

getLastRow

(

)

;

//Count last row in data

var

pnoRange

=

sheetMonthlyOverview

.

getRange

(

"L2:L"

+

lastRow

)

;

pnoRange

.

setFormula

(

"=IF(J2=0,,B2/(J2/100))"

)

;

//Creating new column with profit values based on spreadsheet formula

var

profitRange

=

sheetMonthlyOverview

.

getRange

(

"M2:M"

+

lastRow

)

;

var

profit

=

sheetSettings

.

getRange

(

"B2"

)

.

getValue

(

)

/

100

;

profitRange

.

setFormula

(

"=J2*'Nastavení'!$B$2/100-B2"

)

;

//Part below creates conditional formats for profit column

for

(

i

=

2

;

i

<=

lastRow

;

i

++

)

{

var

profitLoss

=

sheetMonthlyOverview

.

getRange

(

i

,

13

)

.

getValue

(

)

;

sheetMonthlyOverview

.

getRange

(

i

,

13

)

.

setBackground

(

"#FFC2B2"

)

;

sheetMonthlyOverview

.

getRange

(

i

,

13

)

.

setBackground

(

"#CCF5CC"

)

;

//Part below creates conditional formats for PNO column

for

(

i

=

2

;

i

<=

lastRow

;

i

++

)

{

var

pnoForConditional

=

sheetMonthlyOverview

.

getRange

(

i

,

12

)

.

getValue

(

)

;

if

(

pnoForConditional

>=

profit

*

100

)

 

{

sheetMonthlyOverview

.

getRange

(

i

,

12

)

.

setBackground

(

"#FFC2B2"

)

;

sheetMonthlyOverview

.

getRange

(

i

,

12

)

.

setBackground

(

"#CCF5CC"

)

;

//Creating Campaign performance report

var

reportDateRange

=

lynt_get_date

(

sheetSettings

.

getRange

(

"B6"

)

.

getValue

(

)

)

+

","

+

lynt_get_date

(

1

)

;

campaingsPerformance

.

clearContents

(

)

;

var

report

=

AdWordsApp

.

report

(

" SELECT CampaignName, Cost, Impressions, Clicks, AverageCpc, Ctr, AveragePosition, Conversions, CostPerAllConversion, ConversionValue "

+

" FROM CAMPAIGN_PERFORMANCE_REPORT "

+

" WHERE CampaignStatus = ENABLED"

+

" DURING "

+

reportDateRange

)

;

//Exporting data to sheet

campaingsPerformance

.

clearContents

(

)

;

report

.

exportToSheet

(

campaingsPerformance

)

;

campaingsPerformance

.

sort

(

2

,

false

)

;

var

headerColumns

=

campaingsPerformance

.

getRange

(

1

,

1

,

1

,

13

)

;

headerColumns

.

setValues

(

[

[

"Název Kampaně"

,

"Náklady"

,

"Počet zobrazení"

,

"Prokliky"

,

"Průměrné CPC"

,

"CTR"

,

"Prům. Pozice"

,

"Konverze"

,

"Cena konverze"

,

"Celk. hodnota konverzí"

,

"Průměrná objednávka"

,

"PNO"

,

"Zisk/Ztráta"

]

]

)

;

headerColumns

.

setFontWeight

(

"bold"

)

;

//Creating new column with avg order value

var

lastRow

=

campaingsPerformance

.

getLastRow

(

)

;

//Count last row in data

var

avgOrder

=

campaingsPerformance

.

getRange

(

"K2:K"

+

lastRow

)

;

avgOrder

.

setFormula

(

"=IF(H2=0,,J2/H2)"

)

;

//Creating new column with PNO with Google sheet script

var

lastRow

=

campaingsPerformance

.

getLastRow

(

)

;

//Count last row in data

var

pnoRange

=

campaingsPerformance

.

getRange

(

"L2:L"

+

lastRow

)

;

pnoRange

.

setFormula

(

"=IF(J2=0,,B2/(J2/100))"

)

;

//Creating new column with profit values based on spreadsheet formula

var

profitRange

=

campaingsPerformance

.

getRange

(

"M2:M"

+

lastRow

)

;

var

profit

=

sheetSettings

.

getRange

(

"B2"

)

.

getValue

(

)

/

100

;

profitRange

.

setFormula

(

"=J2*'Nastavení'!$B$2/100-B2"

)

;

//Part below creates conditional formats for profit column

for

(

i

=

2

;

i

<=

lastRow

;

i

++

)

{

var

profitLoss

=

campaingsPerformance

.

getRange

(

i

,

13

)

.

getValue

(

)

;

campaingsPerformance

.

getRange

(

i

,

13

)

.

setBackground

(

"#FFC2B2"

)

;

campaingsPerformance

.

getRange

(

i

,

13

)

.

setBackground

(

"#CCF5CC"

)

;

//Part below creates conditional formats for PNO column

for

(

i

=

2

;

i

<=

lastRow

;

i

++

)

{

var

pnoForConditional

=

campaingsPerformance

.

getRange

(

i

,

12

)

.

getValue

(

)

;

if

(

pnoForConditional

>=

profit

*

100

)

 

{

campaingsPerformance

.

getRange

(

i

,

12

)

.

setBackground

(

"#FFC2B2"

)

;

campaingsPerformance

.

getRange

(

i

,

12

)

.

setBackground

(

"#CCF5CC"

)

;

//Creating Ad_group performance report

var

reportDateRange

=

lynt_get_date

(

sheetSettings

.

getRange

(

"B6"

)

.

getValue

(

)

)

+

","

+

lynt_get_date

(

1

)

;

adGroupPerformance

.

clearContents

(

)

;

var

report

=

AdWordsApp

.

report

(

" SELECT AdGroupName, CampaignName, Cost, Impressions, Clicks, AverageCpc, Ctr, AveragePosition, Conversions, CostPerAllConversion, ConversionValue "

+

" FROM ADGROUP_PERFORMANCE_REPORT "

+

" AdGroupStatus = ENABLED"

+

" AND CampaignStatus = ENABLED"

+

" DURING "

+

reportDateRange

)

;

//Exporting data to sheet

adGroupPerformance

.

clearContents

(

)

;

report

.

exportToSheet

(

adGroupPerformance

)

;

adGroupPerformance

.

sort

(

3

,

false

)

;

adGroupPerformance

.

setFrozenColumns

(

2

)

;

var

headerColumns

=

adGroupPerformance

.

getRange

(

1

,

1

,

1

,

14

)

;

headerColumns

.

setValues

(

[

[

"Název sestavy"

,

"Název Kampaně"

,

"Náklady"

,

"Počet zobrazení"

,

"Prokliky"

,

"Průměrné CPC"

,

"CTR"

,

"Prům. Pozice"

,

"Konverze"

,

"Cena konverze"

,

"Celk. hodnota konverzí"

,

"Průměrná objednávka"

,

"PNO"

,

"Zisk/Ztráta"

]

]

)

;

headerColumns

.

setFontWeight

(

"bold"

)

;

//Creating new column with avg order value

var

lastRow

=

adGroupPerformance

.

getLastRow

(

)

;

//Count last row in data

var

avgOrder

=

adGroupPerformance

.

getRange

(

"L2:L"

+

lastRow

)

;

avgOrder

.

setFormula

(

"=IF(I2=0,,K2/I2)"

)

;

//Creating new column with PNO with Google sheet script

var

lastRow

=

adGroupPerformance

.

getLastRow

(

)

;

//Count last row in data

var

pnoRange

=

adGroupPerformance

.

getRange

(

"M2:M"

+

lastRow

)

;

pnoRange

.

setFormula

(

"=IF(K2=0,,C2/(K2/100))"

)

;

//Creating new column with profit values based on spreadsheet formula

var

profitRange

=

adGroupPerformance

.

getRange

(

"N2:N"

+

lastRow

)

;

var

profit

=

sheetSettings

.

getRange

(

"B2"

)

.

getValue

(

)

/

100

;

profitRange

.

setFormula

(

"=K2*'Nastavení'!$B$2/100-C2"

)

;

//Part below creates conditional formats for profit column

for

(

i

=

2

;

i

<=

lastRow

;

i

++

)

{

var

profitLoss

=

adGroupPerformance

.

getRange

(

i

,

14

)

.

getValue

(

)

;

adGroupPerformance

.

getRange

(

i

,

14

)

.

setBackground

(

"#FFC2B2"

)

;

}

else

if

(

profitLoss

>

0

&&

profitLoss

!=

null

)

{

adGroupPerformance

.

getRange

(

i

,

14

)

.

setBackground

(

"#CCF5CC"

)

;

//Part below creates conditional formats for PNO column

for

(

i

=

2

;

i

<=

lastRow

;

i

++

)

{

var

pnoForConditional

=

adGroupPerformance

.

getRange

(

i

,

13

)

.

getValue

(

)

;

if

(

pnoForConditional

>=

profit

*

100

)

 

{

adGroupPerformance

.

getRange

(

i

,

13

)

.

setBackground

(

"#FFC2B2"

)

;

adGroupPerformance

.

getRange

(

i

,

13

)

.

setBackground

(

"#CCF5CC"

)

;

//If there is bigger loss than your settings, scripts will send you email with alert

var

alertEmail

=

sheetSettings

.

getRange

(

"B4"

)

.

getValue

(

)

;

if

(

sheetDailyAccountOverview

.

getRange

(

"M61"

)

.

getValue

(

)

<=

sheetSettings

.

getRange

(

"B3"

)

.

getValue

(

)

)

{

MailApp

.

sendEmail

(

alertEmail

,

sheetSettings

.

getRange

(

"B5"

)

.

getValue

(

)

,

"Včera jsme zaznamenali ztrátu na Vašem účtě ve výši "

+

sheetDailyAccountOverview

.

getRange

(

"M61"

)

.

getValue

(

)

+

" Kč"

)

;

//If your account daily spend = 0, you will get aler email

if

(

sheetDailyAccountOverview

.

getRange

(

"B61"

)

.

getValue

(

)

==

0

)

{

MailApp

.

sendEmail

(

alertEmail

,

sheetSettings

.

getRange

(

"B5"

)

.

getValue

(

)

+

" Neaktivní kampaně"

,

"Na Vašem Adwords účtu není kredit"

)

;

/* End of Lynt PNO script */